Taking Tins and Turning them in Treasures
In this segment of our training programme we turn to tin and in particular a used cool drink tin. Once we started researching some of the items we could create using a simple old discarded cool drink tin, we were flabbergasted at how many incredible ideas where our there.
Tea Light Holders

Decorate your table for that special occasion using an upcycled Tea Light Holder. This is such a fun project, the designs are endless and the effect wonderful. Let us show you how to take you used tin cans and create the perfect mood setting at your next dinner party.
The Serviette Rose

Using a similar process, that being pattern design and cutting, we can also create wonderful serviette holders using old cold drink cans. Here we will show you how to create the perfect rose shaped serviette holder. Using a template, the tin cans are cut into pieces which then get assembled, with the use of wire, to create the rose. Obviously once you have mastered the art of the rose, the design ideas for other types of serviette holders are limited to the length and breadth of your imagination.
Tin Beads

Who doesn't love beading? Well instead of buying beads, we would teach you how to make your own. This simple and easy process to follow will allow you to create your own beads, using old tin cans.
Jewellery

Once again, when it comes to making jewellery from old cold drink cans, there are endless possibilities. In this section of the training, we hope to fire up your creative juices. We will be teaching you cutting skills, shaping skills and wiring skills, to mention just some of the fun we'll be having while learning the process of creating fun and funky jewellery. Get ready to create some interesting and off the wall necklaces, bracelets and earrings.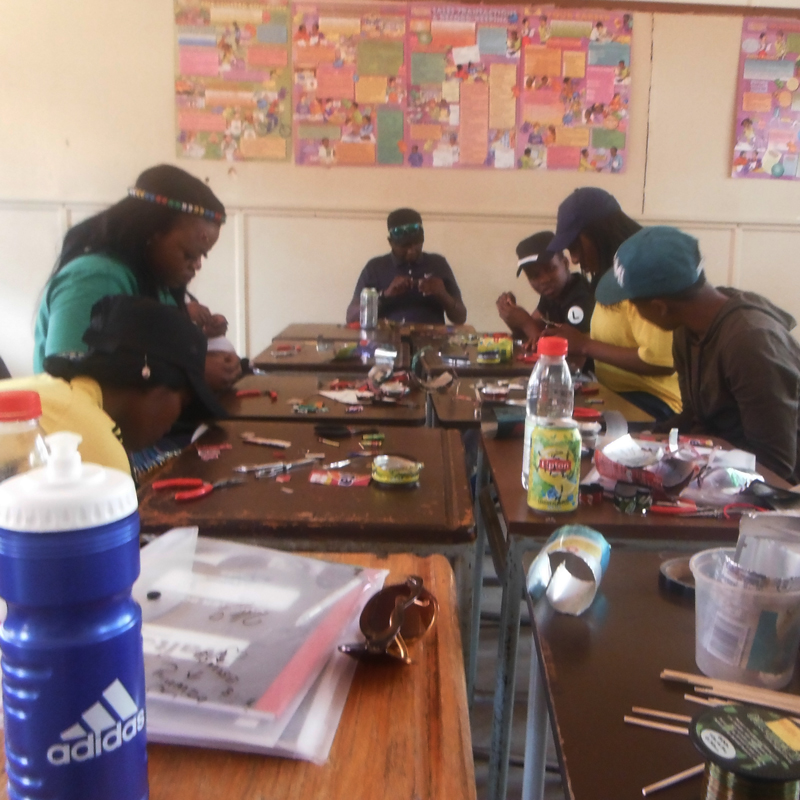 Social Awareness brooches

One of Upcycles most popular selling items off our web-site is the Aids Day Brooch. It's tremendously easy to teach and even simpler to make yourself. But why stop at just Aids Day, with some paint, some string, some wire and even some beads, you can create brooches for all our social awareness campaigns. Pink brooches for Breast Cancer, Black ribbons for Mourning, Yellow ribbons for Cancer Awareness in Children, just to name a few.
Tin Can Picture Frames
Once of our most favourite things must be skills training, but having the right skills also required having the right tools. Tin Picture Frames can be as easy pie, but when you add some extra tools to the process the finished product can be transformed from plain and simple to extravagant and awesome.
Xmas Decorations

As with the Tin Can Picture Frames, we can show you how to make basic Christmas decorations. Letting your mind roam and understanding the different applications using different tools, you can make even the most basic Christmas Star, the most intricate decoration on your tree.
This course is designed to run over 5 days and covers a variety of craft skill incorporating soda tin cans as it preferred medium of choice. The course will help develop your ideas base and show you how to make almost anything from what you would ordinarily consider to be just waste.

The tools needed in the course are provided and details on obtaining such will be provided during the training.
A variety of tools will be covered from basic hand tool to power operated machinery. Although the course does include all types of products and machinery it will not be necessary to have huge amount of accessible funds before you will be able to take advantage of the knowledge learned to start your own business.
We cover a large variety of option and crafting skills to choose from and you can start your own business with the skills learn based on the product you like identified with most. You might have an affinity for the jewellery making part of the course and want to focus your business on that. Others might enjoy making light fitting anslampshade and create their business with this aspect in mind. The course covers a large crafting spectrum and there will be something for everyone to choose from.
Sharing and imagination is part of the fun and no idea is pushed aside. This course is designed to get you out of your NOT creative mind-set and prove to you that we all have the ability to be amazing!!
This course is designed for corporate social responsibility initiative and minimum of 10 candidates need to be enrolled.
We do run workshops on weekend and evenings for individuals who would like to get involved in upcycling in their personal capacity. Please visit our Workshops pages for more info.
To sponsor a community group and get your company going green please email me for more info.
This email address is being protected from spambots. You need JavaScript enabled to view it.
082 780 3673