PET Plastic bottles
This course is designed to run over 5 days and covers a variety of craft skill incorporating PET plastic as it preferred medium of choice.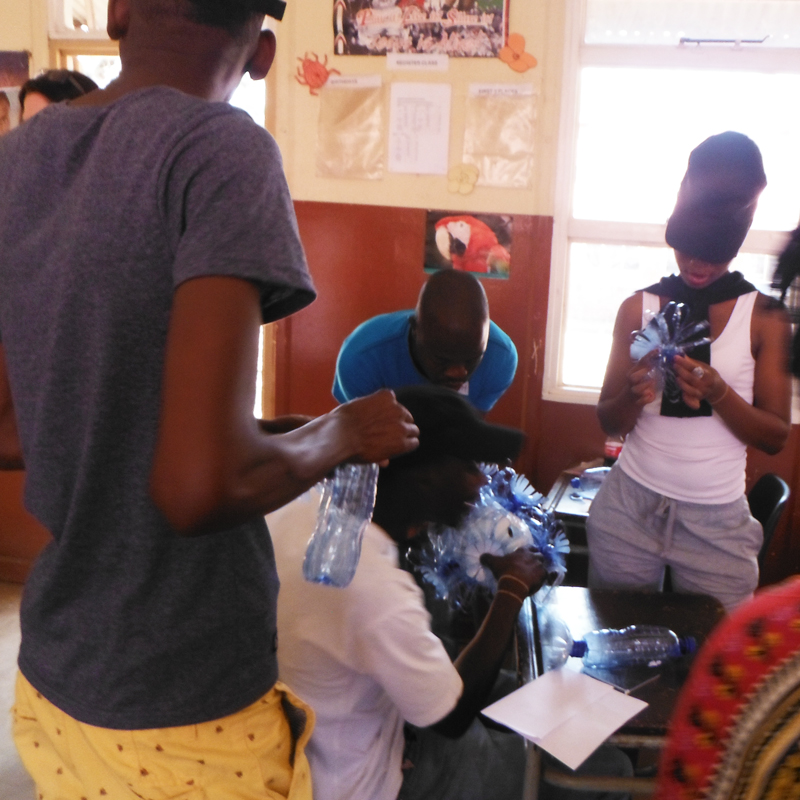 The course will help develop your ideas base and show you how to make almost anything from what you would ordinarily consider to be just waste.
The tools needed in the course are provided and details on obtaining such will be provided during the training.
A variety of tools will be covered from basic hand tool to power operated machinery. Although the course does include all types of products and machinery it will not be necessary to have huge amount of accessible funds before you will be able to take advantage of the knowledge learned to start your own business.
We cover a large variety of option and crafting skills to choose from and you can start your own business with the skills learn based on the product you like identified with most. You might have an affinity for the jewellery making part of the course and want to focus your business on that. Others might enjoy making light fittings and lampshades and create their business with this aspect in mind. The course covers a large crafting spectrum and there will be something for everyone to choose from.
Sharing and imagination is part of the fun and no idea is pushed aside. This course is designed to get you out of your NOT creative mind-set and prove to you that we all have the ability to be amazing!!
Transforming a used 2l Cool drink Bottle
Upcycle has an extraordinary passion for the planet and hopes to keep it as green as possible. Our speciality is creating beautiful items from general waste. We take some of the most commonly tossed waste items and turn them into practical yet lovely art pieces. It became apparent that we could share our knowledge and therefore we have created training courses. A simple 2l Cool drink bottle can be transformed and our training teaches you not only, into what, but how.
The Mobile

The first example of transforming a used 2l bottle is to create a beautiful mobile. It's a simple process of cutting the bottle into design templates, painting these and finally assembling all the pieces. Mobiles can be used to decorate windows, doors, gardens and brighten up even the dullest areas around your home. This particular skill incorporates working with ceramic paints, basic cutting skills and some bead work.
The Terrarium

Most people find it tremendously difficult to grow plants or flowers from seedlings. Our next idea makes that process easy and effective. In this part of our training, we will teach you how to create a mini garden for a flower or herb and instruct you on all the necessary requirements to ensure your seedling grows into a fully grown plant. It's essential these days to plan our own gardens and supplement our food sources, by learning this particular skill, not only can you achieve that goal, but you ensure our planet is kept green. If you plant in the middle of the year and nurture your seedling well, you can easily transfer your plant, into a sustainable garden, by the end of the year but more importantly you can remove the top section and surprise a family member or friend with an incredible, home-grown Christmas gift. In this module, we teach you how to look after a vegetable patch as well as developing a sustainable garden using a simple upcycled tool.
Fun Flowers

We like to be practical but certainly we love being creative even more and that's why we transformed old 2l cool drink bottles into brightly coloured flowers. Flowers always brighten up any room and during this segment, we will teach about cutting specific design from the bottles in order to create the perfect bouquet. The possibilities are endless and so are the creative ideas when making these particular flowers. Painting and decorating skills are also covered in this segment.
Bowls

Old 2l cool drink bottles make amazing bowls. These bowls can be used to store you bits and bobs on your desk, they can be used to tidy up all your nuts and bolts in your garage, the can be used as sweet bowls or simple flowers pots on your dining table at your next event. The uses for bowls are endless.
The Bird Feeder

Who doesn't love hearing birds sing? Let us teach you how you can make them sing by feeding them from an old used 2l cool drink bottle. In some instances, you can combine the use of a 2l bottle and incorporate the smaller 500ml bottle to create a bigger feeder. Again, the use of different practical skills such as cutting and painting are incorporated here.

This course is designed for corporate social responsibility initiative and minimum of 10 candidates need to be enrolled.
We do run workshops on weekend and evenings for individuals who would like to get involved in upcycling in their personal capacity. Please visit our Workshops pages for more info.

To sponsor a community group and get your company going green please email me for more info.
This email address is being protected from spambots. You need JavaScript enabled to view it.
082 780 3673