What you need to make a Paper Mache heart:
Several paper egg trays, cartons or boxes
Water
Bucket
Wall paper glue (one packet)
Cardboard sheet (A4)
Working surface
Read through all the instructions first before starting this recycling Paper Mache craft.
Step 1
The first thing you need to do is tear up your egg trays and boxes, place them in the bucket and then pour water over the egg boxes (enough to cover everything). Allow to soak overnight.
Of the two methods of Paper Mache, you can already see that we will be doing the pulp version of Paper Mache in this recycling project.
Step 2
Having allowed the recycled egg tray cardboard to soak overnight, it should be much softer and easier to work with. You want to use your hands to pulp the cardboard. Squeeze the pulp between your fingers, breaking the cardboard down into a fine pulp. Drain the excess water.
You can see how this would be great for young kids; the squishy lumpy wet paper pulp is great fun for them!
You can see how this would be great for young kids, the squishy lumpy wet paper pulp is great fun for them!
Step 3
Mix in a cup of flour and a cup of salt with your hands, again squeezing the pulp through your fingers repeatedly to ensure that the glue/paste is well mixed into the Paper Mache.
Step 4
Lay your cardboard sheet onto your working surface and begin to lump the Paper Mache out onto the card, in the shape of a heart. This will be your low relief.
Step 5
Once you have a thick layer of Paper Mache on your cardboard sheet, in the shape of a heart, you can start building the shape up.
Step 6
Add lumps of recycled paper, Paper Mache to the shape, building the centre of the heart up the most and tapering down towards the sides. This would be your high relief.
Constantly using your fingers to work the Paper Mache and retain the heart shape.
Step 7
Once the basic shape is complete and in high relief, use your fingers to smooth the Paper Mache surface as much as you like.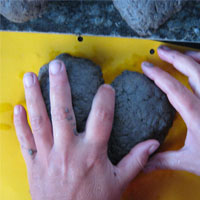 Step 8
With the final shape complete, you want to leave it on the cardboard sheet and allow the Paper Mache to dry. Depending on how wet your mixture is, it may take quite some time to dry. Leave in the sun or a warm well ventilated room, to dry for a few days.
TIP: Do not leave the Paper Mache in a cool or airtight room – as it may start to mould!
Step 9
Once your Paper Mache heart is completely dry, it is now ready to be decorated for your next craft project, such as painting or mosaic.