So this is what we were faced with...
A hideous dark blue double door, very badly painted door with a super bright pink security gate!! This most definitely is not a complimentary colour scheme with its really drippy, scared and scary paint job, it had to go.
They were both awfully shiny so that at least tells me they had painted with enamel paint. This is a good thing! It's not uncommon for people to like the very matt finish of an acrylic and this tempts people who are unaware that acrylic will peel off metal and wood eventually and doesn't wear well in high traffic areas.
I know now that I have a good base that wont peel off but it still is very uneven, drippy and badly painted. My options are to sand the whole door down and start again once I have a smooth finish or to go for a technique that could use the help of a really bad paint job.
I'm going to take the more economical way out and opt for a paint technique that I can get started on straight away! Firstly always wash everything down with sugar soap after your sanding and before you start painting so that your paint has the best chance of adhering to the prepared surface, also so that the years of dirty hand marks and oil don't cause chaos with your design and finish! Remember to rinse the surface thoroughly with clean water prior to painting.
what you will need:
Old interior wooden door
Permanent marker
Paint roller and tray
Sanding paper
Light background paint
Darker wood coloured paint
Even darker wood coloured paint
Rulers
Straightedge
Cloths
cleaning material
Step 1
I have established that we are going with a shabby chic antique door. What I am aiming for in my head will need a light background and so before I start anything I'm going to give the door and the burglar guards a good two layers of oil based universal undercoat.


Step 2
Lots of actual steps later and roller washing and days of drying we can start of step 2. This is not very exciting unfortunately. The next step is to paint everything white again but this time using your Prominent non drip white enamel paint.


Step 3
Now the fun starts. First you have to measure your door and then divide it into equal portions. At this point you have to think about the size of planks you want to paint technique, and if they will be in proportion to your door and if the overall effect looks real and effective.
Now you need a straight edge and a pencil to draw your lines on the door.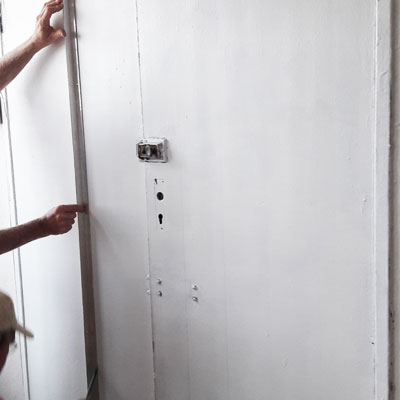 Step 4
With your light brown Prominent non drip enamel paint and a very thin artist paint brush, paint a thin line from the top of the door down to the floor. You need to do this relatively quickly as this part of the next step that requires wet paint for the techniques to work well.

Step 5
While the line of paint is still wet use a small piece of sponge, lightly drag over the line to spread it out. Try making this only about 1cm thick, working from the middle downwards and outwards.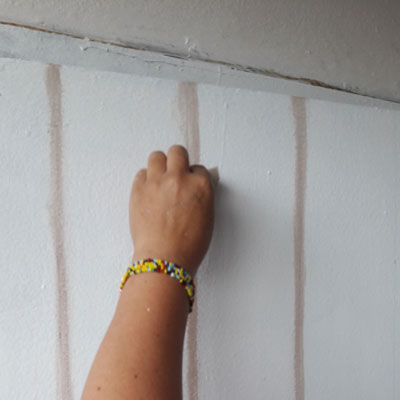 Step 6
Next is, with your dark brown Prominent non drip enamel paint draw another thin line in the middle of your light brown line that you have spread wider. You should still be able to see your pencil lines through the light brown for your previous step.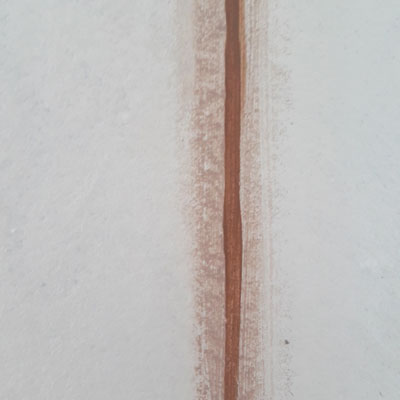 Step 7
Using black paint or a permanent marker, draw an even thinner line down the right hand side of the dark brown line you have just finished painting, after it is dry. This will help create the shadow, 3D effect you are looking for to make the panels stand out better and more realistic.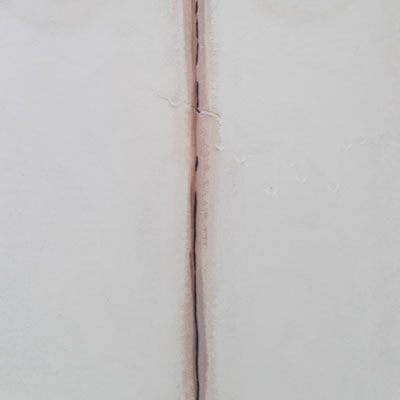 Step 8
Using a sponge with thinners on, rub the light bronw outer edge and give the paint technique an even softer finish. This will help create the effect of the light brown paint looking like dirt that has been rubbed into the cracks of the door making it look as though it has been there for years.

Step 9
The completed door with the panels. We have started to take this door to the next level by adding in faux hinges and other features but this will be shown in follow up articles.

This article was publised by Winnie Mchenry from Upcycle creative on 17 february 2017