Upcycle Waste to work Courses for corporates
Upcycle has developed a waste management training platform to be incorporated as part of your Company Strategy to ensure that sustainability is incorporated into your business practices. As landfills are no longer a viable solution to our waste management strategy it is absolutely necessary to educate and raise awareness about the significance of waste and alternative ways of managing it.

There is a Waste Management Policy that guides Companies when it comes to waste. So as a means to encourage staff, community and customers regarding their responsibility to the planet and our fellow community members, we have developed comprehensive waste training courses.
Upcycle's waste training courses incorporates and demonstrates the 3 R's (Reduce, Reuse, Recycle) principle, it encourages making disposal the last resort as an effort towards the Company's zero waste to landfill site approach.

The training incorporates recycling as your first port of call, it explains in detail the ways and means of making this a very easy and sustainable means of reducing your carbon footprint. We do however realize and understand that recycling is not the most effective way to dispose of waste as it has in itself a set of challenges that are not beneficial to Mother Nature or her people.
Upcycling is the step before recycling and reduces the chance of waste ending up in a landfill and postpones the time before it is recycled. What Upcycle serves to do is to show people that in reusing a product for another purpose it reduces the need to manufacture something from new raw materials. Your waste product can be a solution to saving water or feeding a family.
Types of training:
Core
.
To have the ability to look at any waste product and create useful and sell able items it's advisable to develop a good crafting knowledge and understanding of all craft methodologies. The core training cover a variety of tools, techniques and applications of various crafts and levels ensuring the skills to create unlimited items are obtained and retained.

• Can be done anywhere and don't need a centre
• 6 weeks of general upcycle skills learning how to use various waste items and tools in different ways.
• Each week is a different waste product. Plastic, tin, paper, glass, electronics, fabric
• This is a skills learning programme and not a product manufacturing or specialization course
• This course can be done without having to move on to a specialized course
Upcycle 6weeks skills training program

While the 6 weeks training programmer covers specific product manufacture and design the outcome of this training program is focused on skills transfer rather than an individual product or waste stream that the learners will want or encounter during the program.
The products manufactured during the program will assist the learners in developing various skills i.e. understanding marketability, products, quality control and design functionality to name but a few the focus of the training itself remains concerned with personal development of and the building of confidence of each individual over that of the specific product outcome.
In summery when an individual's self-worth and esteem has been developed and boosted they take greater care and pride of what they doing, this affects the quality and outcome of the manufacturing and aspect of their life.
Build up the person and you build up everything and this we do though the skills transfer process over the 6 weeks.


Course content
| | |
| --- | --- |
| Course | COURSE CONTENT DETAILS |
| Basic Design | The Study of basic visual concepts that relate to the appearance of the designed product, which includes: space, line, tone, colour form, rhythm and pattern. |
| Colour & Texture | The perception of colour is the strongest emotion, of the visual process. We give an Introduction to the wide range of colours in their varied tints and tones. |
| Drawing | It is an exposure to different tools and mediums and how to record a particular Event or Scenario. |
| Methods & Materials | A Student is given the basic experience of the wide variety of Materials and Processes utilized, in the Production of upcycled Objects. |
| Design concepts | The Designer has to be a skilled Problem Solver. Strives to create a better total Environment by choices and actions. The Student is educated on how aesthetical Design follows the rules of proportion, symmetry, balance contrast and colour. |
| Execution | To translate and consolidate suggestions and thoughts into aesthetic Designs. |
| Planning | This means a complete configuration of inventiveness, creative choice and knowledge of Materials and Workmanship. |
| Production | The Designer is exposed to different designs and materials. Made to compromise and optimize factors, keeping in view the limitation of technology and processes. It is done before the evolution of the Final Product. |
| Professional Practice | Knowledge is given regarding the know how to deal with Contracts and Clients. The rules for Professional Conduct and Estimation. |
| Product Development | Knowledge of developing Design Ideas for Industrial Use. |
| Traditional design | Give an exposure to different kinds of Traditional designs within South Africa which have evolved through different Historical Periods. |
| Nature Study | A deep analytical approach to understand forms in Nature. Nature Study reveals the source of many Design Ideas used in the Man Made Environment. |


Training timeline and sections:
Week

Section

Details

Week 1

Plastic

PET plastic:- more info here




Section 1 - Tool and Work orientation

· Health and Safety - an Introduction

· Use and care of tools

· Introduction to various materials.

· Methods of obtaining materials.

Week 2

Fabric /Plastic sheeting

Plastic packets:- more info here

Section 2 – design

· Importance of detailed brief

· From Concept to Creation.

· Comprehensive Upcycle Design concepts and techniques.

· Creation of portfolio of designs.

Week 3

Metal

Soda tins:- more info here

Section 3- implementation

· Usage and handling of tools used in Upcycling.

· Concept of prototyping to understand product production.

· Construction of a prototype with elements to be set in relation to one another.

· Documenting processes with mass production in mind

Week 4

Glass

Glass bottles:- more info here

Section 4 – manufacture

· Understanding specification and drawings

· Reproduction of design items

· Creation of patterns and templates

· Product consistency

Week 5

Wood

Wood:- more info here

Section 5 – marketability

· Costing

· Quality control

· Source Material supply

· Branding

· Creating a portfolio

Week 6

Paper

Paper:- more info here

Section 6 – problem solving

· Unique orders

· Customer expectation

· Deadlines

· Financial constraints

· Teamwork
Assessed Outcomes:

Working effectively with others as a member of a team, group, organization or community:
Contributing to team goals and achievements by adhering to agreed working methods and processes.
Adhering to Occupational Health, Safety and Environmental policies and procedures in the interest of self and others.
Contributing to team efficiency by supporting other team members in the manufacturing environment.
Adhering to team protocols, codes of conduct and generally promoting a positive team spirit.
Coordinating one`s work with that of others in the direct surrounding area, internal and external operations.

Organise and manage oneself and one`s activities responsibly and effectively:
Checking tools and equipment prior to use.
Selecting and preparing materials and equipment to be used.
Using tools and equipment to manufacture in accordance with job specifications.
Applying operating instructions to control and respond to conditions.
Maintaining product quality with reference to key aspects.
Using/wearing personal protective equipment.

Collect, analyse, organise and critically evaluate information:
Accessing and interpreting information related to work tasks to ensure that work requirements are understood and comply with.
Recording and monitoring problems and solutions to prevent reoccurrence of problems.
Applying the principles related to design and manufacture.
Identifying and using tools and equipment to produce an Upcycled product in a production environment in accordance with equipment functionality, material value and specifications.
Responding to non-conformances in a corporate gifting and market related environment.
Taking preventive and remedial action to solve operating problems while manufacturing Upcycled products.
Identifying and dealing with hazards and risks in terms of the relevant procedures and specified requirements.
Apply preventative or remedial action in accordance with operating procedures
Specialized
The course is very detailed and takes you from the absolute beginnings of a waste product and develops ideas and inspiration based on the type of waste you are working with. Our basic core course builds creativity and gives an entire new perspective on what can be done with waste while the specialized course build even further on the core structure you have learned and develops specialized products and techniques.
This course is often done as an SED project with the help of a corporate to set up a training facility for its community to have a space for the Upcycle crafters to work and trade from once completing the course.

• Training centres are established per specialized course
• Premises of 200 square meters or more needed to training 10 candidates at a time
• Specialised equipment need to be purchased for the centre i.e Machinery and equipment, per 10 candidates.
• Materials that are donated to projects need to be transported at the Centres cost.
• Lunch and stipend is dependent on project specification
• Marketing and sales of product is dependent on centre requirements
• Post training mentorship and access to centre and waste materials are dependent on project
Core upcycle Course
Core course 1 x 6 week module

• Each week is a different waste product. Plastic, tin, paper, glass, electronics, fabric
Specialized courses
Sewing courses 4 x 6 week modules
• Each subjects starts off with a core waste upcycle module
• Basic sewing and hand sewing skills course
• Machine use and skills course
• Soft furnishings and décor course
Woodworking course 4 x 6 week modules
• Each subjects starts off with a core upcycle module
• Basic woodworking, furniture restoration
• Fundamentals wood working , basic upholstery
• Paint techniques and finishes
Glass work course 4 x 6 week modules
• Each subjects starts off with a core waste upcycle module
• Cutting glass and polishing, machine usage and application
• Sandblasting
• Lamps, wiring electrical applications, mosaic
Paper 4 x 6 week modules

• Each subjects starts off with a core waste upcycle module
• Paper mache, flowers and fripperies
• Sculpture.
• Advanced paper techniques
Take a look at our products pages to get an idea of what has already been created and of some of the skills that will be learnt in the courses.



Milk bottle:more info here


Coffee tins:- more info here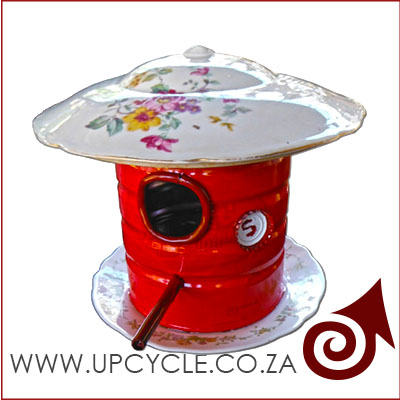 Glassmore info here



Tetra packmore info here



E wastemore info here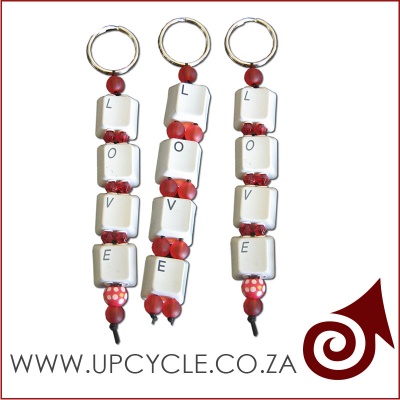 Bottle tops:- more info here