About Us
Upcycle Creative is a company that creates innovative response solutions to waste management.
We train people on processes of design thinking to create new valuable upcycled products from waste.
Ultimately, we upskill people through upcycling their lives too, by enabling each member to create their own business.
Our efforts in waste management through upcycling has diverted tons of waste from making landfill and has created livelihoods for people in communities across South Africa.
We believe in our planet and the value of the people that inhibit it!
Meet the team …
Winnie Mc Henry
Winnie Mc Henry is the visionary founder and Director of Upcycle Creative. Winnie has always been a tree hugger, a design thinker and a person that is loyal to the development of people. She wears many hats, even upcycled ones and is usually the person who will see the solution to a problem with clarity.
Mark Fruhauf
Mark Fruhauf is the mad scientist in the team. Mark charges up the technical development for Upcycle Creative. If there is a process that needs to be refined or details in design, nothing gets left behind. From 3D printing with corn starch to the erection of the world's largest chocolate sculpture. You can say that he holds the key to the innovation hub of research and development.
Sibongile Shabalala
Sibongile Shabalala is a community trainer & sewing project Director at Upcycle Creative. Sibongile is like the Fairy God Mother in her community. She started with Upcycle as a sewer and developed her skills to train on product development. From training on product development, she waved her wand further in setting up a sewing centre in her community. She is a Upcycle Fairy God Mother because she has lived the full cycle of the Upcycle way in developing into her own business venture.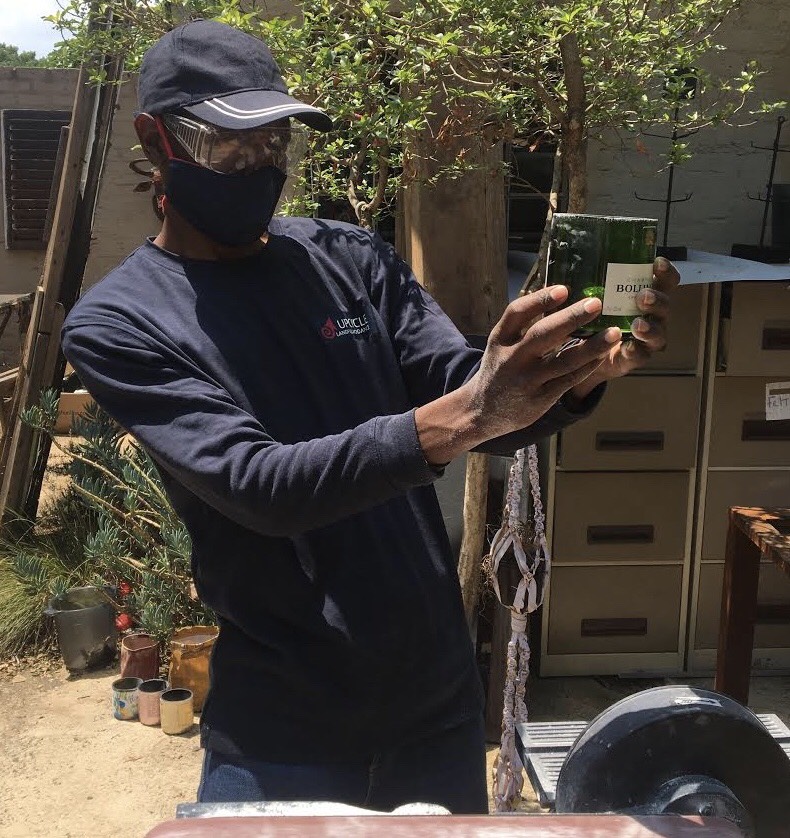 May Maoko
May Maoko is our M&M of community trainers. No, May is no rapper, but he does have a way with words. May's words map a clear way of incorporating the elements of design thinking in the training of diverse groups of people in a variety of communities that are active in creating new valuable upcycled products from waste.
The Backstory of Upcycle
Upcycle was born from a passion to ignite inspiration in saving our planet and a journey of personal self-development. Winnie Mc Henry founded Upcycle in 2010. Upcycle is her second company that was spurned on from a process of creating new purposes for materials that are classified as junk. The deeper realisation was that people across the spectrum of life get stuck and that when you apply different thinking mechanisms to problems, solutions become evident. It was a passion for people too, that in the training of creating products evolved into a concrete understanding of how intertwined and important it is to train on the development of people that are disadvantaged.
The growth of Upcycle has been monumental over the years of living the brand by actively starting initiatives that train people primarily on product development but more inclusively on the bigger picture of hope created through sustained avenues of income generation and then deeper into the development of people that live in communities that are struggling to lift themselves from a cycle of poverty.
The concepts of upcycling as it started were visionary and education around the evolving business culture with emergence of the bottom-line reporting having to include social impact and environmental footprint was monumental. Waste management solutions revolved primarily around recycling and reuse. The proof of product and people development took consistent dedication and commitment to bring to life. The advocacy and exhibitions on upcycling paid off in time as various corporate companies and businesses started to embrace new thinking processes and actions regarding waste management. The development of people as a fundamental value to corporate culture and inclusive diversity also found added value in business identities.
This merging of social and environmental impact considerations for businesses solidified the demand for upcycled new valuable products that were created. This change in business culture and consumer behaviour further entrenched the business model of Upcycle Creative of actively working with a circular green economy.
Upcycle Creative has with is its determination of vision and mission expanded its green creative reach to include workshops, programmes, manuals of training, unique team building experiences and a revolutionary research and development innovation lab. Individuals that have worked for Upcycle or been trained in development of making upcycled products have been mentored and supported into the creation of their own businesses.
Upcycle Creative has also scaled up the capacity to consult on waste management solution responses to co operative business intervention and inclusion on huge scale projects.
The Upcycle Creative model of success is that at the beginning of each intervention, the mentorship of people in the Upcycle way has given people a livelihood by enabling them to operate as a fully capacitated business entrepreneur without having to have a start-up income first.
Through Upcycle Creative, inspiration for an NGO has been ignited where the founding understanding of mentorship of people will expand its reach. The NGO, "Higher Instinct" facilitates expansive training and development programmes and workshops for the mentorship of people.