We first need some basic instructions.
Safety
What materials we are using.
How to change a drill bit, types of bits, and basic drill use and safety.
Recycling tips and tricks with rubber.
A bit about the strapping we using for the top of the seat.
Why we dont use metal to bolt the tiers together.
Okay now for the fun part!
The first step is to drill the holes in the tiers so you can strap them together with rope to keep them all together. After I gave everyone a basic drill handling run down it was hard to contain the girls in this group!! They were first of all quite shocked and surprised that they were going to even be allowed near one and then super excited and did not let the men in the group near the drill! They had the power! It was great to see that they were not scared and were happy to try something that was scary and intimidating to them!! Girl power!
The next step was to rope the three layers of tiers together so they were firm and could be moved around when needed. This takes quite a bit of strength and a trick or two to get the thick rope through the little hole created by the drill.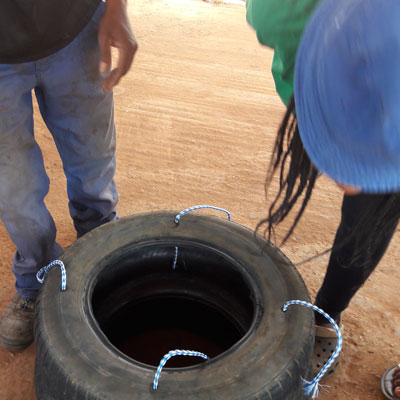 Once we have secured the tiers together we start with the strapping on the top to create the seat part. At one point all I could see was arms and legs and was not sure if they were going to end up tied to the chair but it all worked out just perfectly!
When the strapping is done and secured its time to try out our new product! Gladys wanted to be the judge and jury on this lot and tried out all the chairs one by one! Prudence decided that she needed purple strapping to stand out from the rest. Purple Prudance is now her nick name.
And there you have it, our first group of proud owners of Upcycled tier chairs. Training next Tuesday will be more comfortable an less tiresome!
I left them with the intention that they need to continue with the skill and make at least one new chair each, this is to make sure the skill is well entrenched and that everything they learn is kept fress and completly understood.
NEXT TUESDAY....
Today i arrived to find that this awesome group have been hard at work practising thier new found skills and have made the rest of the chairs we will need to do the other parts of our training! I feel like a proud mother of my awsome group and thier achievements!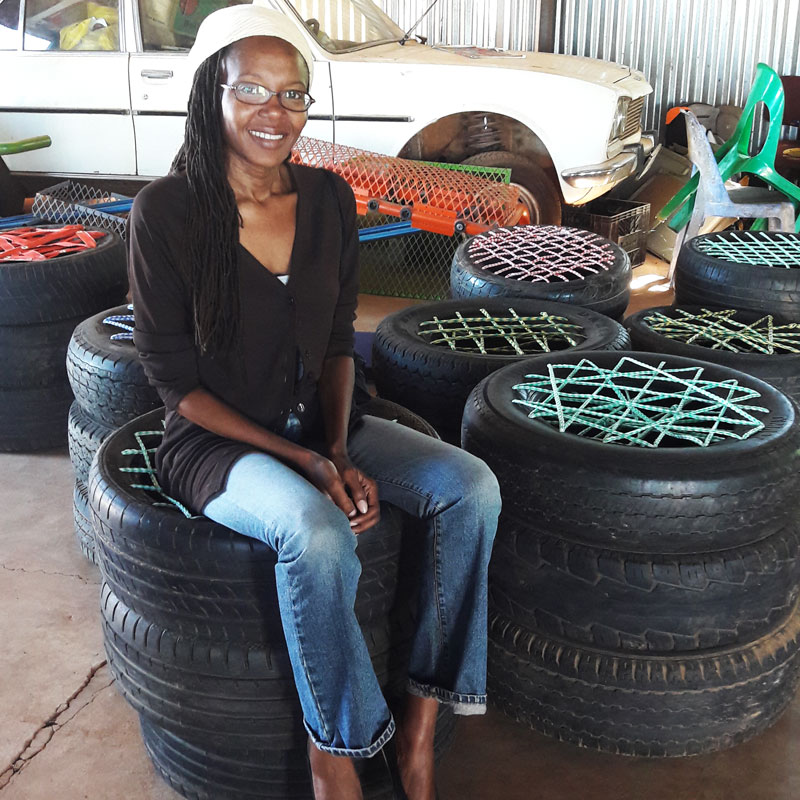 Now lets see how these chairs look in the training space!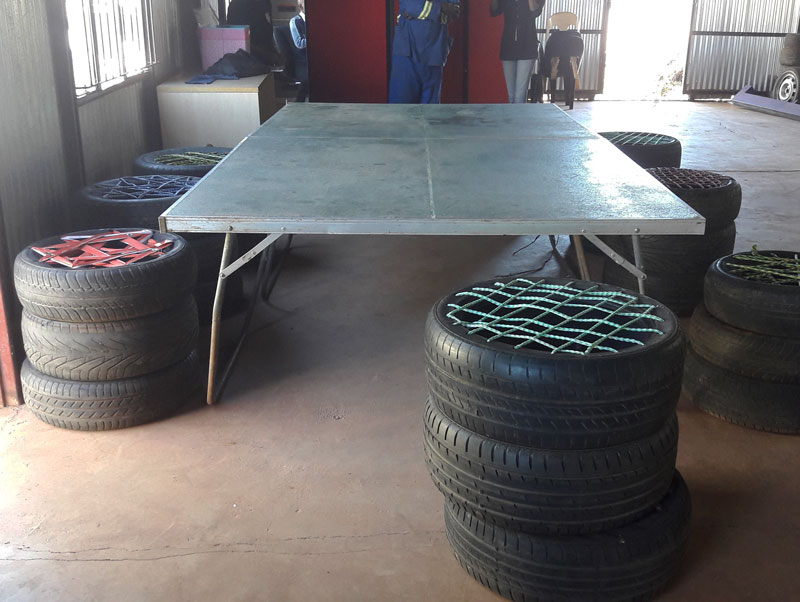 A FURTHER UPDATE
The group have now made a whole bunch of new chairs and are hiering them out for weddings, funerals and other activities within the community.
If you ae interested in purchasing one of these super durable outdoor / indoor chairs they are selling for R250 each or R200 if you take more than 10.
Please send us an email with your feedback and subscribe to our site to help inspire and motivate our initiatives!
This email address is being protected from spambots. You need JavaScript enabled to view it.
for more info on how you can help fund this initiatve or volenteer. This email address is being protected from spambots. You need JavaScript enabled to view it.