Upcycle Zero Waste to Landfill Shop!
It is because of the support of the community of conscious people that frequent the Upcycle zero waste to landfill shop at 174 Long Road Greymont, that Upcycle Creative is able to continue to introduce new valuable upcycled products into the market. We also frequently add new items as well to our Upcycle online catalogue so that you can shop from anywhere in the country and even if you are outside of South Africa.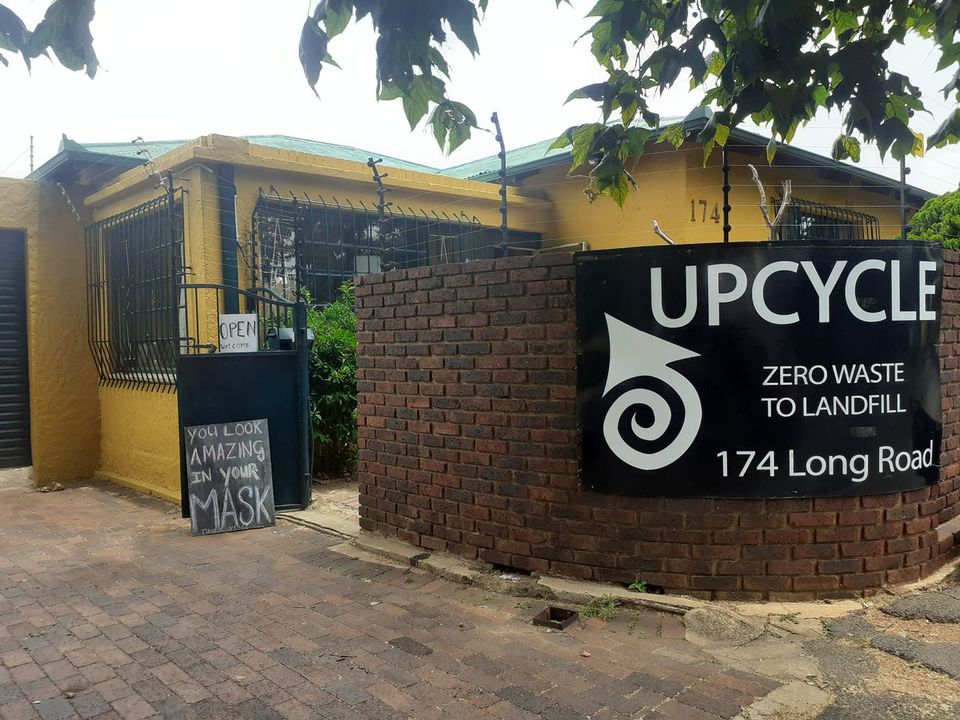 The Upcycle shop showcases the remarkable products that are produced by upcyclers trained under Upcycle Creative innovation lab.
The founding philosophy of Upcycle Creative business activity is fundamental to the community of people that share in the value of the Upcycle zero waste to landfill shop as it is inclusive of the green circular economy.
The Upcycle shop is an important element of the business unit as it showcases the output of products that are created in initiatives set up by Upcycle Creative innovation lab. The Upcycle shop ensures that the cycle of business activity by means of initiatives set up to produce or debrand / sanitise products, further sustains the training and development of projects.
A huge thank you to everybody for sharing in our philosophy and bringing it to life by means of your support!
As you know, the standing philosophy at Upcycle Creative is that waste is of great value and that creating a new stream of income by upcycling waste profoundly changes the value of people's lives that are trained and developed as upcyclers.
It is the Upcycle zero waste to landfill shop that sells new upcycled valuable products that are made by people in community projects, that are set up by Upcycle Creative to develop the various products from waste. Training and development are critical in the business of Upcycle and we place much focus on this process as we uphold professional standards of good quality newly produced upcycled products.
Thank you again for helping us sustain income generation created from these products! The income generated by the Upcycle shop gets reinvested into the community project development to keep them active in part.
There are specific processes that ensure the journey of these products to the shop, but when you buy a new valuable upcycled product, you are also buying into the circular green economy and the community at the same time.
The process that products go through is quite a journey as most of them have first stopped by the Upcycle R&D innovation lab to assess what the best solution would be for different waste streams. It is assured though that by the time it reaches the Upcycle shop, the product has connected the dots of providing a solution to waste and mostly diverting landfill and that in this process has provided dignity to people making the products by providing access to income generation.
The shopping experience at the Upcycle zero waste to landfill shop is like no other! For sewers for example, the access to a variety of fabric offcuts that is available to purchase is a dream come true and a reinvestment into the creative ventures of sewers who are making an income by their creations. The apparel on show at the Upcycle shop has differential appeal to a cast of customers that live and dream their realities in the same way upcyclers do.
The Upcycle zero waste to landfill shop is online and is based in Johannesburg, 158 Long Road, Greymont.
Take a browse through our online store and commissions to get a deeper understanding of the added value that an upcycled product can give to your corporate identity. We have created incredible products for corporate gifts and conferencing goodies, like our shopper for example.
We can manufacture bulk products that you require for your business activities and experiences and can include your brand logo and campaign insignia on products if you require.
We take pride in our design thinking faculties that sprout from the Upcycle Creative R&D innovation lab.
If you would like to inquire about a package of corporate upcycled gifts, we invite you to get in contact with us to assign projects in action to deliver on your quantities.
You can visit our Upcycle zero waste store at 158 Long Road, Greymont and join our Facebook Group.
Alternatively, e-mail: This email address is being protected from spambots. You need JavaScript enabled to view it. for any questions you may have.
Keep in touch with our news stream on social media: @upcycle_creative