excess product. Upycle's sanitisation of this product is to de-brand the material and innovate new products through the innovation hub & filter this product development into the training utilities available in communities to produce a new product stream. The first option is known traditionally as a "buff". The primary use for the buff is for cyclists that avoid insects from going into the mouth whilst cycling. Upcycle introduces the traditional buff as an interface reminder of the social distancing that is required to stop the fast track spreading of the virus. It is worn over the mouth and the nose, leaving your eyes exposed for vision. We are sociable beings and we believe that this buff as a social reminder as a facial mask will enable an effective level of preventative masking as a whole.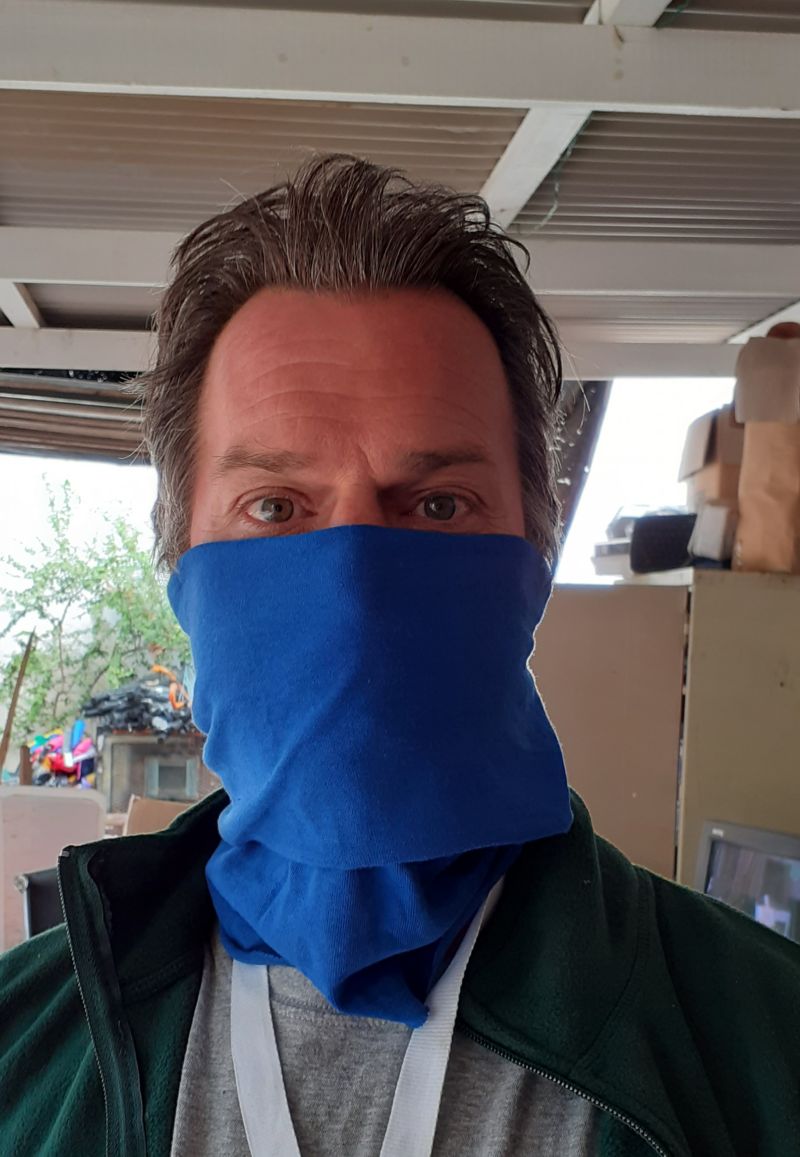 The second option as a facial mask is the Upcycle facial mask made from virgin T
shirts. The traditional resemblance of a medical facial mask, with material enclosing
the mouth and nose area & neatly tied around the head behind the ears is the most popular go to for facial covering. The process of prototyping around the concept of facial masks showed an undeniable need for the traditional facial mask that represents the medical mask. Upcycle has placed resources aligned to the making of these facial masks. The design to fit aspect of the Upcycle facial mask has maximised on a good fit of the mask around the nose and mouth. The shaping is defined to easily wrap around the contours that fold around these areas. The fit is comfortable & is easy to place on the face.
The facial masks are mostly a reminder of the absolute necessity of social distancing
as we embrace a different way of living and behavioural adjustments required for the
safety of people at every level.
The larger impact of this project is through the innovation of the business operations
at this stage of quarantine adjustments. The sewing centre (usually set up at
Upcycle), has been moved to each of the workers homes. Sewing machines have
been distributed and the Upcycle facial mask is in full production. This is the only way
that a business like Upcycle & many others can continue surviving safely and; pay their staff from the support of the new product line innovation. It is during this time of
global crisis that the understanding of thinking local deepens even further into the
reality of what this could possibly mean for small and medium businesses from now and for a few months. The support of your local small and; medium size businesses is more critical now than ever before. Thinking local is now doing local by supporting the trusted businesses around you and in so ensuring that the important role these businesses play in economic flow in a community is continued. The pressure for the entrepreneur, small businesses and the self-employed is compounded now.

When you buy into a locally produced product, especially in response to drastic measures, you are buying into the whole chain of design thinking andinnovation it takes to continue on this business model of change management.

The Upcycle facial masks are available to order directly from Upcycle by emailing
This email address is being protected from spambots. You need JavaScript enabled to view it..
Written by Angela Ludek