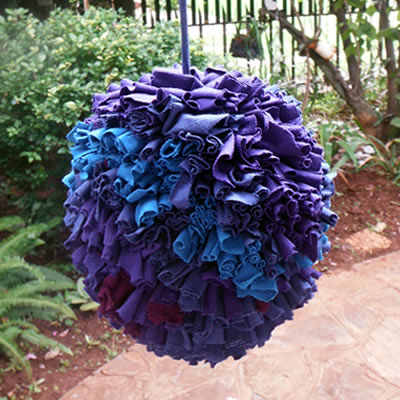 Step by step project on how to make upcycled pom poms from scrap fabric
Contact Winnie if you have any questions.
This big pom-pom tutorial uses an easy fast method for upcycling scraps of fabric into this fashionable decor item.
In this tutorial we will make a reusable pompom maker, which makes pompom making easier, especially handy for mega sized pompoms.
The big fabric pompom is very easy to make and a nice craft for adult and child to do together.
We specifically use stretch fabric which looks very effective because cut into the same direction as the stretch it curls inward into neat tubes. Old T-shirts could also be used for this project.
Fabric takes up vast amount of space in landfills, only 15% gets recycled, and it's so upcyclable, please rather put those scraps and old Tee's to good use.
Read more: Big Fabric Pom Pom